(Unofficial) Record-breaking temperature across the Globe

---
Feel free to read the interesting history of these web pages: http://coolwx.com/history.php
---
This page displays global cities that are currently approaching, matching, or exceeding
unofficial daily/monthly/all-time record temperatures.
Please read the important notes at the very bottom of this page before using this data.
Move the mouse over a colored dot on the images to view the information on the temperature record.
** Note: As of 10 February 2019, the almanac has been updated to include all of 2018's data. **

Last updated at Sat Jan 25 23:32:46 UTC 2020 using 2315 observations from 23UTC
Unofficially, there are currently 0 stations that have broken their daily high record, 1 that is tying it, and 13 that are near it.
Unofficially, there is currently 1 station that has broken their daily low record, 2 that are tying it, and 1 that is near it.
---
LEGEND OF UNOFFICIAL RECORDS:
Daily Close

Daily Tied

.

Daily Broken

Monthly
Tied/Broken

All-time
Tied/Broken

HIGH
RECORD

##.#

##.#

##.#

##.#

##.#

LOW
RECORD

##.#

##.#

##.#

##.#

##.#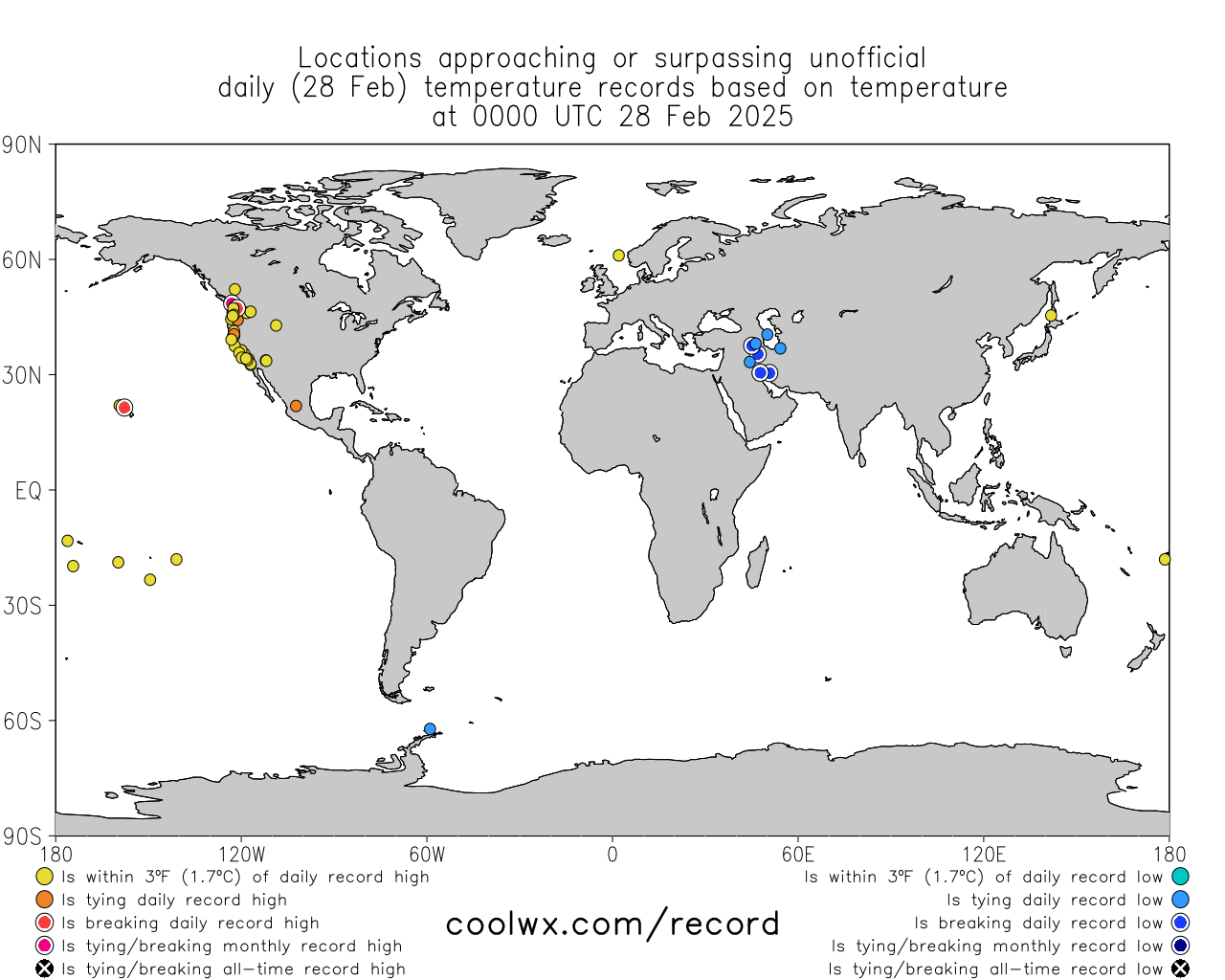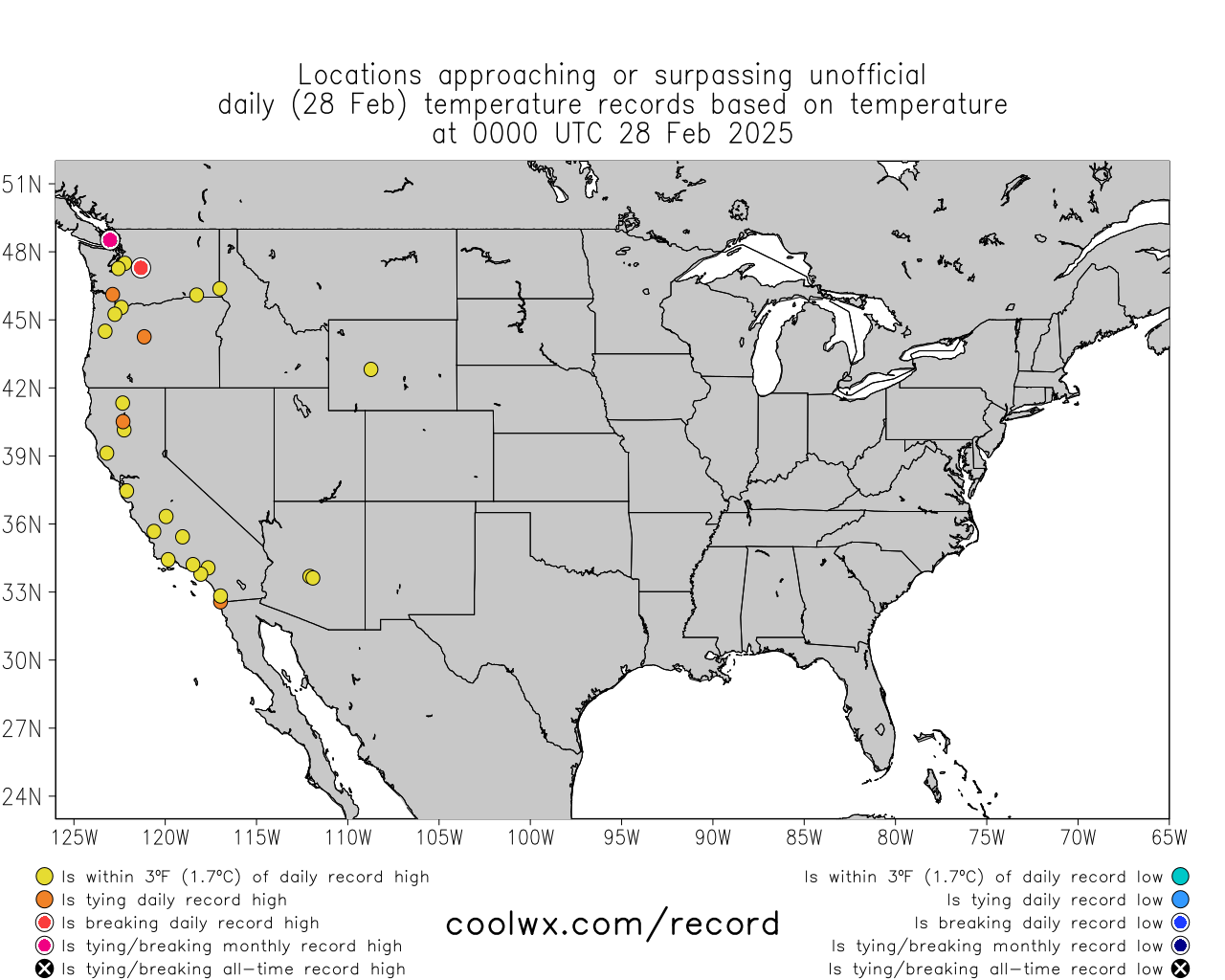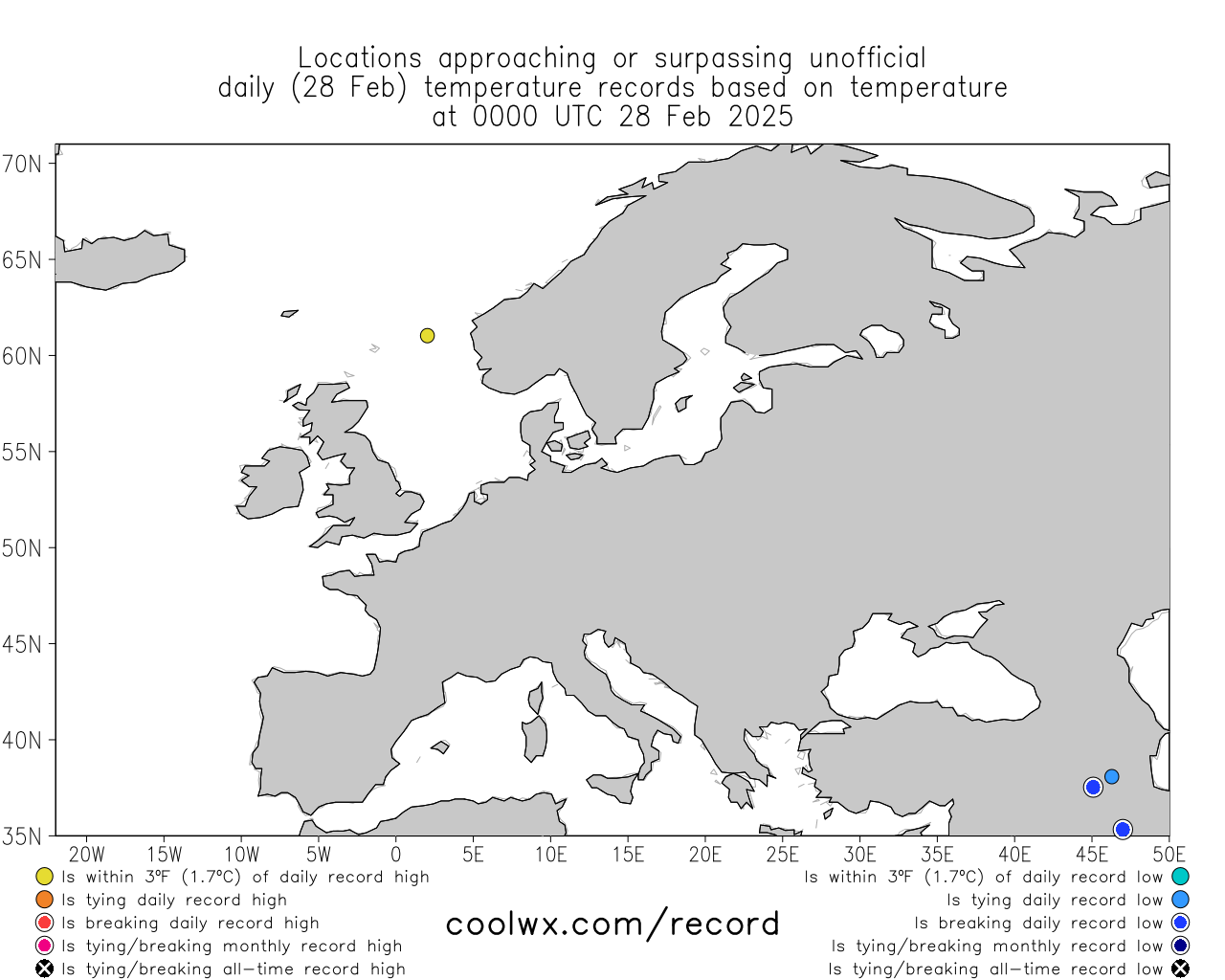 LEGEND OF UNOFFICIAL RECORDS:
Daily Close

Daily Tied

.

Daily Broken

Monthly
Tied/Broken

All-time
Tied/Broken

HIGH
RECORD

##.#

##.#

##.#

##.#

##.#

LOW
RECORD

##.#

##.#

##.#

##.#

##.#
Table Units: [ Fahrenheit | Celsius ]
ID

City
Country

Current
Temp &
Trend
(°C)

Unofficial Daily /
Monthly /
Alltime
Record (°C)

Margin of
Unofficial
Daily
Record (°C)

Database
Length
(years)

ID

ESOK

Karlstad
Sweden

7.0&nbsp▲

&nbsp&nbsp7.0&nbsp&nbsp&nbsp&nbsp10.0&nbsp&nbsp&nbsp&nbsp32.1
(2008)&nbsp&nbsp(1991)&nbsp&nbsp(2018)

0.0

43

ESOK

RJKA

Amami Airport
Japan

20.0&nbsp&nbsp&nbsp

&nbsp21.0&nbsp&nbsp&nbsp&nbsp26.0&nbsp&nbsp&nbsp&nbsp37.0
(2005)&nbsp&nbsp(2008)&nbsp&nbsp(1986)

-1.0

47

RJKA

ESOW

Vasteras / Hasslo
Sweden

6.0&nbsp&nbsp&nbsp

&nbsp&nbsp7.0&nbsp&nbsp&nbsp&nbsp10.0&nbsp&nbsp&nbsp&nbsp34.0
(2018)&nbsp&nbsp(1981)&nbsp&nbsp(2014)

-1.0

43

ESOW

CYGX

Gillam, Man.
Canada

-8.0&nbsp&nbsp&nbsp

&nbsp-7.0&nbsp&nbsp&nbsp&nbsp&nbsp3.0&nbsp&nbsp&nbsp&nbsp37.5
(1944)&nbsp&nbsp(2003)&nbsp&nbsp(1998)

-1.0

48

CYGX

KPSC

Pasco, WA
United States

13.3&nbsp&nbsp&nbsp

&nbsp14.3&nbsp&nbsp&nbsp&nbsp19.3&nbsp&nbsp&nbsp&nbsp47.2
(1992)&nbsp&nbsp(1995)&nbsp&nbsp(1990)

-1.0

49

KPSC

KCIU

Chippewa International, MI
United States

1.7&nbsp&nbsp&nbsp

&nbsp&nbsp3.0&nbsp&nbsp&nbsp&nbsp&nbsp9.0&nbsp&nbsp&nbsp&nbsp36.0
(2010)&nbsp&nbsp(2013)&nbsp&nbsp(2001)

-1.3

42

KCIU

AGGH

Honiara / Henderson
Solomon Islands

32.0&nbsp&nbsp&nbsp

&nbsp33.2&nbsp&nbsp&nbsp&nbsp36.0&nbsp&nbsp&nbsp&nbsp50.0
(2019)&nbsp&nbsp(2016)&nbsp&nbsp(1989)

-1.2

50

AGGH

ROAH

Naha Airport
Japan

23.0&nbsp&nbsp&nbsp

&nbsp24.6&nbsp&nbsp&nbsp&nbsp26.7&nbsp&nbsp&nbsp&nbsp35.2
(1969)&nbsp&nbsp(1966)&nbsp&nbsp(1956)

-1.6

72

ROAH

PHNL

Honolulu, HI
United States

27.8&nbsp&nbsp&nbsp

&nbsp29.3&nbsp&nbsp&nbsp&nbsp31.1&nbsp&nbsp&nbsp&nbsp35.6
(1981)&nbsp&nbsp(1996)&nbsp&nbsp(2005)

-1.5

81

PHNL

.

FMSD

Fort-Dauphin
Madagascar

24.0&nbsp&nbsp&nbsp

&nbsp22.5&nbsp&nbsp&nbsp&nbsp11.0&nbsp&nbsp&nbsp&nbsp&nbsp2.0
(1998)&nbsp&nbsp(1978)&nbsp&nbsp(1979)

+1.5

47

FMSD

VTCL

Lampang
Thailand

10.0&nbsp&nbsp&nbsp

&nbsp&nbsp9.6&nbsp&nbsp&nbsp&nbsp&nbsp4.0&nbsp&nbsp&nbsp&nbsp&nbsp3.7
(1993)&nbsp&nbsp(1974)&nbsp&nbsp(1999)

+0.4

59

VTCL

SBCC

Cachimbo
Brazil

19.0&nbsp&nbsp&nbsp

&nbsp19.0&nbsp&nbsp&nbsp&nbsp11.0&nbsp&nbsp&nbsp&nbsp&nbsp5.0
(1963)&nbsp&nbsp(1981)&nbsp&nbsp(1975)

0.0

37

SBCC

FKYS

Yaounde
Cameroon

14.0&nbsp▼

&nbsp16.0&nbsp&nbsp&nbsp&nbsp11.0&nbsp&nbsp&nbsp0
(1993)&nbsp&nbsp(2007)&nbsp&nbsp(1980)

-2.0

44

FKYS

ID

City
Country

Current
Temp &
Trend
(°C)

Unofficial Daily /
Monthly /
Alltime
Record (°C)

Margin of
Unofficial
Daily
Record (°C)

Database
Length
(years)

ID
Table Units: [ Fahrenheit | Celsius ]
LEGEND OF UNOFFICIAL RECORDS:
Daily Close

Daily Tied

.

Daily Broken

Monthly
Tied/Broken

All-time
Tied/Broken

HIGH
RECORD

##.#

##.#

##.#

##.#

##.#

LOW
RECORD

##.#

##.#

##.#

##.#

##.#
---
Important Notes: